Gems Ville @ District 14 in Geylang & Kallang
Gems Ville in the Geylang and Kallang areas are long-established residential areas with easy access to delicious food, amenities and famous heritage sites. Residents expect to enjoy more community services such as recreational and business opportunities, and work opportunities closer to home. When the Thomson East Coast (TEL) service ends, the area will be restored.
The towns of Geylang and Kallang were planned with the aim of having quick access to shops, healthcare, schools, community amenities and parks. Financial centers, industrial zones and business districts are on the doorstep, which also helps to bring in more job opportunities. The joint effort of many government agencies is to comprehensively prepare and implement strategies for each region.
Discover URA Master Plan of Gems Ville Condo
Geylang & Kallang a is not far from the Central Business District (CBD). It's only 10 minutes away, and residents can bet a lot of Small to Medium Enterprises (SMEs) will crowd in here if not for the vice events. Geylang & Kallang is also easily accessible via the MRT, with stations in Aljunied, Dakota and Paya Lebar offering easy transportation to various district ends.
Gems Ville Condo nearby amenities are Aljunied MRT, Kallang MRT, Mountbatten MRT, and Old Airport Road Market & Food Centre, all of which are in close proximity from this condo. you have a list of mall as Paya Lebar Quarter Mall (PLQ Mall), City Plaza, Kinex, Paya Lebar Square, Singapore Post Centre, Kallang Wave Mall, and Kallang Leisure Park for more shopping, eating, and entertainment options. Local food places such as Sims Vista Market & Food Centre, Old Airport Road Market & Food Centre, Kallang Estate Fresh Market & Food Centre, and Geylang Serai Market & Food Center are available to enjoy and shopping.
---
Gems Ville | Discover the comfort of life in the Geylang area
Economy: Sustaining a dynamic economy
Gems Ville @ Lor 13 Geylang within a good range of amenities and proximity to the city East Coast Park, Geylang and Marine Parade housing locations. Future residents will have more choices as these two mature towns get rejuvenated in the coming years. More facilities will also be added to serve the needs of the growing community:
A new civic centre, Wisma Geylang Serai, will be developed within the Geylang Serai precinct by 2017 to house a mix of community, cultural and arts-related facilities.
A future nursing home at Geylang East Central will be built to meet the needs of our elderly
More retail options will be available at Paya Lebar Central
Leisure: New reasons to be outdoors
Those living in Geylang and Marine Parade do not have to travel far for their daily dose of the outdoors. Not only do they have East Coast Park within easy reach, they also have access to a number of smaller parks and an extensive network of park connectors. By 2030, most residents will be living within just 400m of a park or park connector as greening efforts continue:
More neighbourhood parks will be provided at various locations
A new park connector will be built between the Paya Lebar and Eunos MRT stations, with a future extension towards Geylang River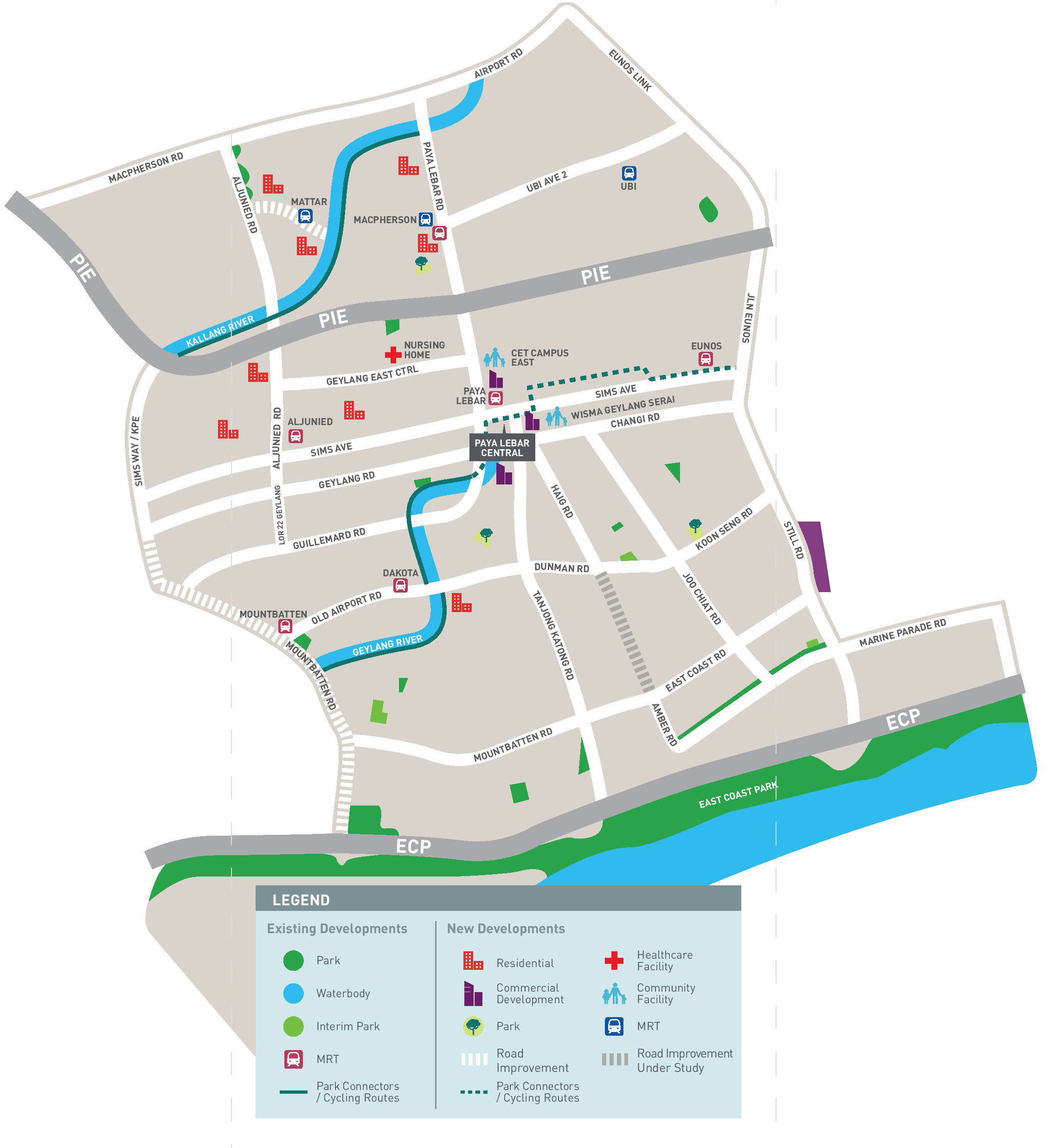 Other developments that will further promote outdoor activities include:
An expansion of the cycling network
Improvements at Geylang River under PUB's Active, Beautiful, Clean IABC) Waters programme. For instance, the existing concrete canal from Dunman Road to Guillemard Road will be enhanced with more greenery and new communal spaces
The upgrading of Haig Walk under the Estate Upgrading Programme IEUP)
Transport: Quicker ways to travel
Residents in Geylang and Marine Parade can expect smoother and faster journeys with the following enhancements to the roads and public transport network:
The Downtown Line will have 3 new MRT stations serving the Geylang area by 2017, namely Mattar, MacPherson and Ubi. MacPherson will also be an interchange station connecting with the Circle Line
The Eastern Region Line (under study), expected to be completed by 2020, will give a tremendous boost to the public transport connectivity of Marine Parade and slash travel times to the city and Changi
Ongoing road widening works along Sims Way, Mountbatten Road and Fort Road will support the upcoming development in the area
A new vehicular underpass at the junction of Sims Way and Mountbatten Road will facilitate the flow of traffic exiting Kallang-Paya Lebar Expressway [KPE1 towards the city and the Sports Hub
Economy: Nurturing a growth centre and creating jobs
New commercial developments will continue to come onstream over the next few years, offering exciting opportunities for new businesses and bringing jobs closer to homes.
Many new developments will be sprouting up in and around Paya Lebar Central, a new sub-regional centre. A number of projects are already underway, including the Workforce Development Agency's (WDA) Continuing Education and Training (CET) Campus East, Paya Lebar Square and One KM. A future commercial development has also been made available at Tanjong Katong Road/Sims Avenue.
How To Book Vvip Gems Ville 's Discount
Quickly contact us to enjoy great discount offers with an exclusive showflat preview