Top 3 MRT Stations closest to Gems Ville Condo
Gem Ville is a residential project located in Geylang, one of the most accessible areas in District 14. The project provides excellent connectivity for future residents through main roads linking to every area. location in the city, providing exceptional travel comfort for residents. For those using a private vehicle, the Pan Island Expressway (PIE), Nicoll Expressway and Kallang Paya-Lebar Expressway (KPE) provide a short drive to key locations in Singapore. In addition, around the project are public transport services, helping residents to have faster trips and avoid traffic jams. Therefore, today's article is to suggest you the nearest MRT stations to the project, giving you an indispensable convenience when living here.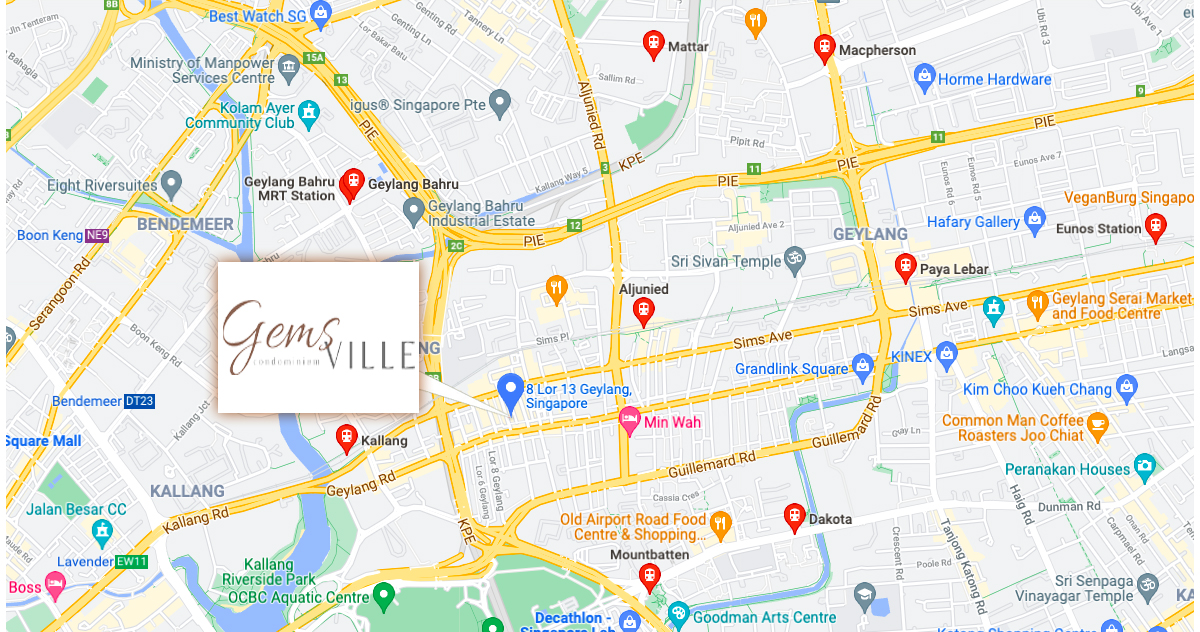 Top 3 MRT Stations closest to Gems Ville Condo
Discover Gems Ville Condo Location Map!
Discover more about Gems Ville Location to know more about attractive amenities nearby!
Aljunied MRT station nearby Gems Ville Condo
Only a 4-minute drive from Gems Ville Condo, equivalent to about a 12-minute walk, residents can easily go to Aljunied MRT station. It is an overground train station along the East-West Line (EWL), in the Aljunied planning subdivision and located along Aljunied Road, near the intersection with Sims Avenue. The station currently serves the Geylang area, including the nearby HDB properties at Sims Place and Geylang East Central, small condominiums in many areas of Geylang, and many businesses and institutions located around the Industrial Park, Sims Avenue and many shops in Geylang area.
Aljunied MRT station nearby Gems Ville Condo
Kallang MRT station nearby Gems Ville Condo
From Gems Ville Residences, residents only take about 6 minutes to drive to Kallang MRT station. Also located along the East-West Line (EWL), the station is located in the Boon Keng planning sub-region, adjacent to Kallang Bahru and Kampong Bugis sub-districts, and located along Sims Avenue, at the intersection with Lorong 1 Geylang. The station is named after the Kallang area it serves, which is believed to have originated from the factory factories or the Orang Laut tribe in the past. The station mainly serves HDB housing clusters around Lorong 1 Geylang, with many businesses and institutions located in townhouses in Sims Avenue, Geylang Road, and industrial zones in Boon Keng area.
Mountbatten MRT station nearby Gems Ville Condo
One of the MRT stations also located in the vicinity of Gems Ville Condo, Mountbatten MRT station is a metro station along the Circle Line (CCL) Phase 2, located between the Kallang and Geylang planning areas. It was built below the intersection of Mountbatten Road, Old Airport Road, and Stadium Avenue. In addition to residential apartments, Mountbatten Station also serves nearby schools, markets, and fast food outlets at Stadium Avenue.
Kindly follow our website and stay tuned for more Gems Ville's latest news to not miss any important information!
Register With Us To See Available Units at Gems Ville!
Sign Up Now For An Exclusive VVIP Preview And Enjoy Exclusive Discounts.