Suggestions of primary schools in the vicinity of Gems Ville Condo
Gem Ville is located in Geylang - one of the most accessible areas in District 14. This development offers excellent connectivity via main roads linking to the address providing ease of travel. especially for residents. With a few minutes' drive, residents are easily connected to roads including the Pan Island Expressway (PIE), Nicoll Expressway and Kallang Paya-Lebar Expressway (KPE) to important sites in the city. Singapore. In addition, with an extensive public transport service, residents can reach metro stations such as Mountbatten MRT, Katong Park MRT, Tanjong Rhu MRT, Lavender MRT within a few minutes' walk. to be able to travel quickly. Around the project are a series of prestigious educational institutions with all levels, in which, the number of primary schools is abundant with good teaching quality. Here is some information about elementary schools near the project, helping parents have more options when registering their children.
In the vicinity of Gems Ville Condo, there are countless primary schools, serving children with a 6-year curriculum, including 4 years of elementary school from grades 1 to 4 and 2 years of the next course is an orientation program from grade 5 to grade 6. International students study with local students right from primary school. In the foundation stage, the core curriculum is English, mother tongue and math with minor subjects such as music, arts, crafts, physical education and other social subjects. Science is taught from 3rd grade. To maximize students' potential, they are placed in classes according to their abilities before entering the orientation phase. The education system at all schools is built to be more and more flexible and diverse, in order to provide more choices to suit students' interests and learning methods.
Besides nearby primary schools, Gems Ville Condo also has well-connection to universities and colleges within a few minutes drive. Check it out here and choose a suitable university for your child!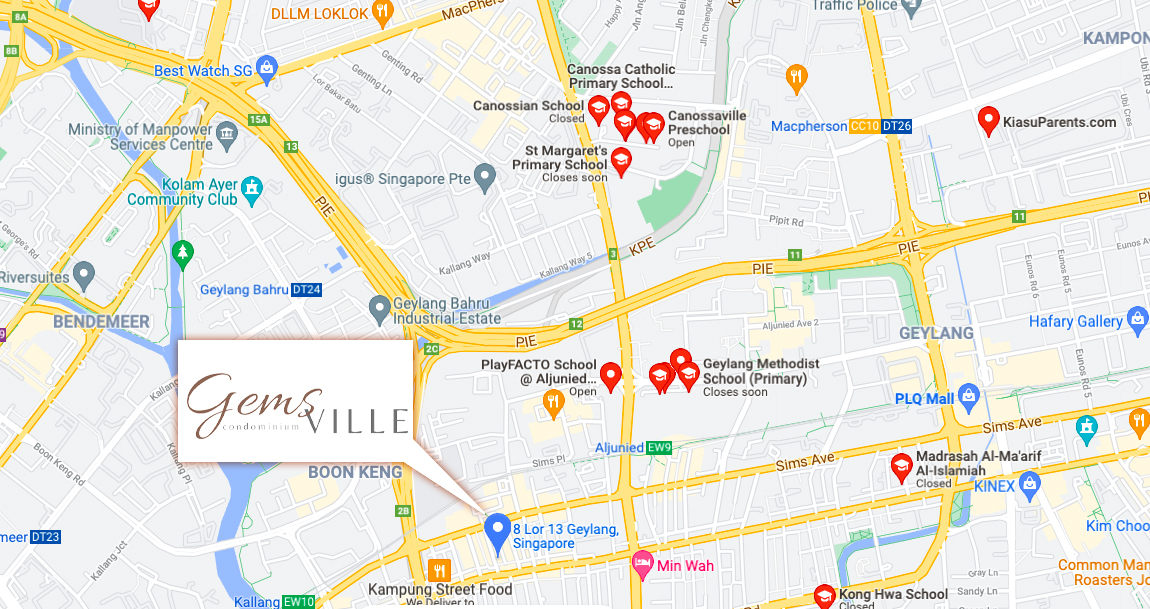 Suggestions of primary schools in the vicinity of Gems Ville Condo
Discover More Reputable Schools nearby Gems Ville Condo!
Explore more about prominent educational institutions nearby Gems Ville Condo
With only a radius of 1-2km from Gems Ville Residences, residents can easily find nearby primary schools such as Geylang Methodist School (Primary), Canossian School, St Margaret's Primary School,... These are public primary schools. education for the purpose of educating and nurturing students, so that each of them may develop in body, soul, and spirit, and be trained in righteousness to become good men of God, equipped for every good job.
The core values ​​that guide the educational process at these schools are Charity, Forgiveness and Humility. These values ​​are explicitly taught through the School Values ​​Education program. Ongoing Masses and faith formation sessions allow students to explore and grow in their own understanding of their faith with confidence and a commitment to live a virtuous life. Values ​​are also instilled by students through daily hands-on activities and outreach projects that our students design and implement every year. In addition, a number of other primary schools are also within close proximity to the condo such as The Winstedt School, Kong Hwa School, PlayFACTO School @ Aljunied,...
Keep up with Gems Ville Condo latest news to not miss any attractive information about the condo and grab your unit now and be able to take advantage of discounts and promos available!
Get Vvip Prices And Discounts!
Gems Ville Condo - Good Accessibility Offers Even More Options