Gems Ville Education | A variety of prestigious schools and educational institutions nearby
With the advantage of connectivity, Gems Ville is a brand new freehold apartment located at 8 Lorong 13 Geylang, 389901. This project will soon become a multifunctional apartment complex on a land area of 7,868 square feet . In addition, the project is also located near many nearby amenities such as schools, hospitals, campuses, cafes, shops, supermarkets... Due to the attractiveness of the street, the project becomes become a highly sought-after residential area, also located near the East coast. In particular, you can see that the vicinity of this project has many prestigious schools and educational institutions, which will create a premise for a healthy living environment for your child's comprehensive development.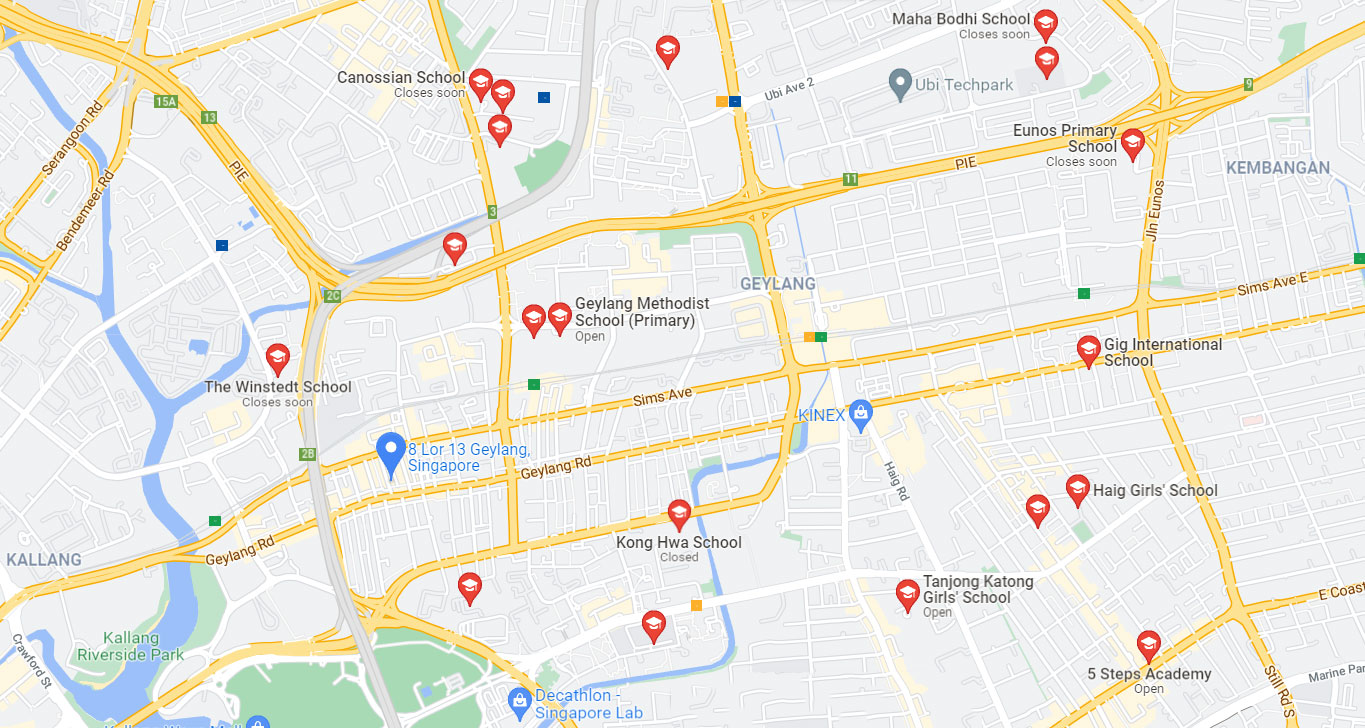 Gems Ville with A variety of prestigious schools and educational institutions nearby
Gems Ville Condo enjoys an excellent location with great access to major highways, bringing residents to all parts of the city such as the Pan Island Expressway (PIE), Nicoll Expressway and Kallang Paya-Lebar Expressway. (KPE), allowing you to drive a short distance to key locations in Singapore. When living in this luxury condominium, you don't have to wonder where to go, what to play, or how to bring family members together every weekend. Especially, the transportation of children to school is no longer a worry, when there are many prestigious and quality educational options nearby. For example, Nexus International School (Singapore) is just a 5-minute drive away, and Geylang Methodist School (Primary & Secondary) is also just a 6-minute drive away. Alternatively, Kong Hwa School is 7 minutes away and another option just 8 minutes' drive away is Broadrick Secondary School.
Future residents should consider choosing a accommodation unit at Gems Ville Residences because of the benefits it brings to you. Especially when you live near the school, there are many things that will interest you more. The first obvious benefit when buying a house near a school is that you will benefit from a number of amenities around the area such as: restaurants, water bars, play areas for children and students, centers English center… In the future, the value of real estate around the school area will also increase significantly, especially in the areas of the districts near the center, especially Geylang. The second benefit of buying a house near a school is that it opens up business opportunities for you with high profits. It can be said that the area around the school is an ideal place for you to start a business, or rent it out, thereby increasing your income. There are many types of businesses you can apply when you have a house near a school, for example, you can run a breakfast business, a photocopy shop, school supplies, a parking lot business, etc.
If you are interested in Gems Ville and want to learn more about amenities around this area, check out these interesting suggestions at Gems Ville Collaboration. Financial centers, job centers, workplaces around this project will give you many useful suggestions!
Register Your Interest To Get Exclusive Consulting
Gems Ville - Expanded accessibility and ease of connection while living here!