NoMa Condo
Gems Ville is one of the outstanding projects, located in a peaceful location on the edge of the city. Inspired by the green and fresh garden of Nature, this is a free development that offers you an impressive, close-to-nature life in Geylang area. Slated for completion in 2025, the project will be built on 7,868 square feet of land. This new launch condo is for those who are always looking for a new way of life. As you blend this into your home, feel the energy and inspiration. Along with fresh and modern style, NoMa is also one of the projects with similar architecture and concept to Gems Ville. If you are interested in nearby projects, NoMa is the ideal choice.
The common characteristics of NoMa and Gems Ville in terms of location and design style
Just a few minutes' drive from Gems Ville Condo, NoMa is a condominium of 50 freehold apartments in District 14, a local cultural and culinary area. Developed by Macly, the project is inspired by the trendy boroughs of NYC, which attract the attention of culture vultures and those in the art and design fields. The condo is tucked away at the intersection of Geylang Lorong 28 and Guillemard Road. This is an area that attracts homebuyers thanks to its strategic location, reasonable prices, proximity to many prestigious educational institutions and potential for upcoming development. NoMa is also within walking distance to a variety of eateries and restaurants in the food heaven of Geylang and the Guillemard area. Residents can go to shopping centers such as Katong Shopping Mall, Paya Lebar Square, Paya Lebar Quarter, Kinex to participate in conveniences such as retail, supermarket, restaurant, bank, etc.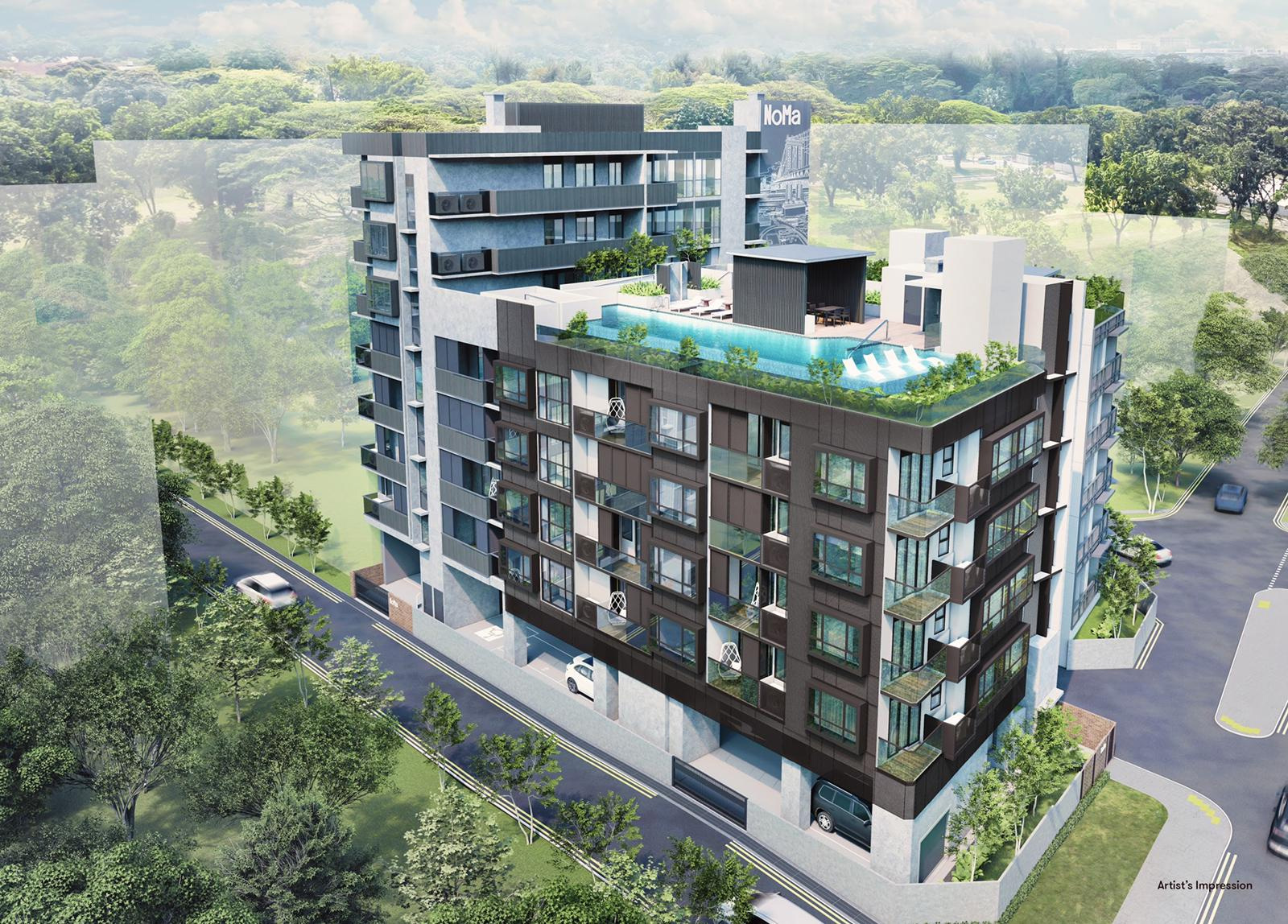 NoMa Condo
Find out more information about NoMa Condo here and get your chance to live in this amazing residence filled with luxury!
As with Gems Ville Residences, NoMa features upscale mansion amenities including a community plantation, a water deck and a sundeck that runs alongside the infinity pool. The rooftop BBQ and dining area facing the pool is convenient for guests. Residents can enjoy a day of sunbathing by the pool, followed by a home-cooked dinner in the BBQ pit, and those with green thumbs will get access to communal potted plants and even can experiment with horticulture and urban farming. Inspired by the word 'nomad', NoMa represents lifestyle-savvy, travel-loving people, aiming to create a modern community of like-minded individuals who are always looking for new opportunities and experiences.
With only 50 apartments, the project is developed to bring high-class amenities to future residents. Balcony space offers a beautiful view of the vibrant city at night. It also gives a glimpse of the busy area. The apartments are built with large glass windows to receive enough natural light to grow the apartments. The atmosphere of the surreal houses makes you feel like you are living in a high-class hotel.
For more information about price and promotions of the condo, discover more Gems Ville Pricelist here. Sign up now to enjoy your exclusive vvip showflat preview and get a taste of the lifestyle that awaits you here at this condo.
Showflat Viewing Registration
Enjoy The Great Value Of Discounts And An Exclusive Preview Of What Gems Ville Has In Store For You