Some of the famous restaurants with specialties only available in the Gems Ville neighborhood
Gems Ville is located right in a small lane of central Geylang where all the vibes are going. Nestled in the Lorong 13 neighborhood, which is known for its bustling atmosphere. It can be said that Geylang area is a dining paradise in Singapore with all kinds of salty and sweet dishes with extremely attractive flavors and very affordable prices. Living here, you definitely have to try all the typical dishes for this island nation. Those are the special dishes that have made the popularity of Singaporean cuisine around the world. Check out some of the famous restaurants with specialties only available in the Gems Ville neighborhood right now!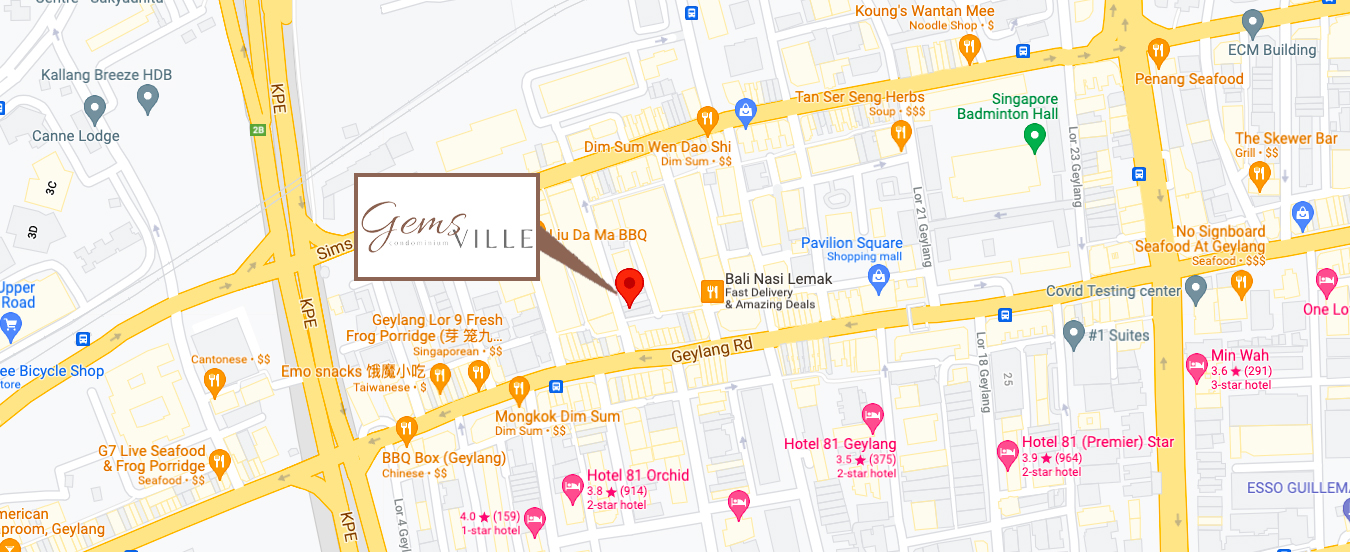 Famous restaurants with specialties only available in the Gems Ville neighborhood
Just a 2- to 3-minute walk from Gems Ville Condo, residents can enjoy delicious dishes at famous restaurants such as Dim Sum Wen Dao Shi, which offers a variety of dimsum dishes. The restaurant is famous for dishes like har gao, siew mai, chee cheong fun, shredded century egg porridge, fried carrot cake and fried oyster cake and a pot of Chinese tea. With moderate prices and not too expensive, the restaurant is rated as the number 1 Hong Kong-style restaurant on the list of reliable restaurants to satisfy late-night cravings.
Not far away is Tan Ser Seng Herbs Restaurant - a restaurant with spacious dining space with fresh air. The restaurant is famous for its herbal turtle soup. Rich in flavor definitely worth a try. The soup is refillable if you need more. If turtles are too weird for you, there are more popular herbal chicken soups. Along with some vegetable sides and some yam rice, it makes the perfect dinner choice.
Discover More Amenities Nearby Gems Ville Condo Now!
Explore more about attractive destinations nearby Gems Ville Condo
When living at Gems Ville Residences @ Geylang, we cannot help but mention frog porridge. Frog porridge is presented in 2 small clay pots, a pot of pure white porridge and a pot of frogs with a rich, aromatic, spicy chili sauce. You should order less spicy frog porridge to fully enjoy the delicious taste of this famous porridge. In Geylang area, you can choose famous porridge shops such as Eminent Frog Porridge - one of the famous porridge restaurants with 1 Michelin star, based at 323 Geylang Rd, just 3 minutes walk from the condo or Geylang Lor 9 Fresh Frog Porridge is also nearby.
In addition, an 8-minute walk from the condo is No Signboard Seafood - a famous restaurant that has been open since the 1970s. Here, you can enjoy the best chili crab with two popular crab meat processing styles. especially used with chili sauce, slightly tomato, spicy, sweet and spicy or with black pepper sauce. Chilli crab is often served with fried dumplings in a delicious chili sauce. Crab is made through 2 processes, boiled first, then fried so that the crab meat does not stick to the crab shell.
Get more the latest news of Gems Ville Condo by following Gems Ville News for more interesting information!
Vvip Preview Appointment!
Gems Ville Condo - Good Accessibility Offers Even More Options